What is short track?
As one of the most explosive, highly thrilled sports of the Olympic Games, short track speed skating is a hidden gem of the Winter Olympics. Short track is raced on an oval so small it can fit in a hockey rink. With flashing speed, precise execution, and decisive strategy, it rivals auto and bicycle racing for sheer excitement. Short track speed skaters can go head-to-head individually or in small relay teams. Racing counter-clockwise, competitors skate on razor-thin blades, hitting speeds near 40 miles per hour. A skater can pass opponents or even change lanes to move ahead in the pack– but it's risky! Cause a collision or bump another racer and the passer can be disqualified. No wonder speed and finesse are crucial. If a competitor is lapped once, she must move to the outside track-lapped twice and she's out of the race. Short track keeps spectators on the edge of their seats to the very end, where strategy gives way to a burst of pure speed. Changing lanes on the home stretch is against the rules, so viewers can always count on a breathtaking sprint to the finish.
Other speed skating fast facts:
Short track speed skating was introduced as a demonstration sport at the Olympics in 1988.
It became an official Olympic sport at the 1992 Games.
In the Olympics, skaters compete in three individual events: the 500-, 1000- and 1500-meter events.
Skaters compete in team events as well. Women skate the 3000-meter relay, and men the 5000-meter.
During non-Olympic years, short track speed skaters take to the ice in World Cup competition, the World Championships and domestic championship events.
What equipment do I need to get started?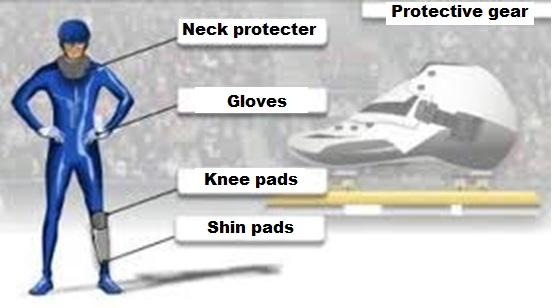 All skaters are required to wear a helmet, full fingered gloves, long sleeves and long pants – Sweat pants are fine, running tights are preferable. Dedicated club members and competing athletes wear the Garden State Speed Skating Club skinsuit.
At the skater's discretion, soft knee pads (Volley ball or soccer knee pads work well), shin guard, neck guard, ankle protection and eye protection can be a good idea.
While there are Short Track specific versions of all of these, to start they are not necessary. In addition to the above of course, you will also need short track speed skates. When you begin we can check club's inventory to see if we have your size. And when you are ready to buy, we will help you to determine what equipment is most appropriate for you, depending on your skill level and budget
Who can skate … are you sure I can?
The long and short of it is … ice speed skating is a sport for all ages and skill levels, from the beginning novice through Olympic and world class speed skaters. Whether you choose entry level skating, are looking for a recreational experience or a viable cross training alternative, or want a chance at the Olympic rings, speed skating offers unique developmental opportunities for athletic involvement and success.
Where do you skate?
When do you skate?
We skate all year around. Our seasons run from September through March; and from May through August. Special training
camp
is usually conducted in the summer and in winter holiday times. See the
calendar page
for detailed times.
How can you accommodate skaters of different abilities at the same practice?
We divide our skaters into 3 groups based on ability, C, B and A (fast, faster and fastest), and all three groups are on the ice at the same time. While one group is skating on the track, the others are working on technique in the center of the ice, or simply warming up or cooling down while waiting their turn.
How do I get started with the Garden State Speedskating Club?
Just come to practice and we'll get you started. Look at the
Calendar page
for the time and location of our next practice. Fill out a waiver and US Speedskating
1-Day form
(we pay the $1 for you) and bring it with you. See
Join US page
for further details.
How do I get the cool Garden State skin suits?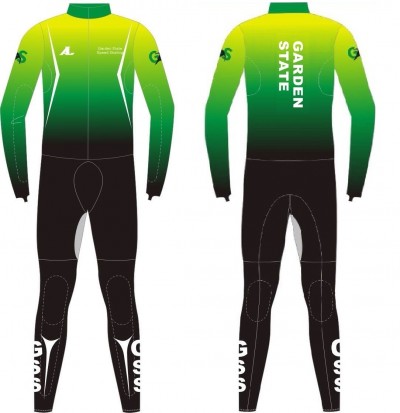 Green, Lantern green, the GSS suits, designed by our members, have a distinctive style and color that make our skaters proud to be a GSS.
They are not mandatory for new skaters. We typically purchase the suits when there is enough member demand to get a price break. New suits are approx $150 (regular) or $200+ (Kevlar).
We plan to offer GSS jackets and other apparels in the future so our skaters can always feel proud to wear them.
I'm a parent, how can I help if I am not on the ice?
GSS is a volunteer organization. We have an appreciation of the sport and want to encourage others to participate. We need parent volunteers to help with off ice activities during practice, like moving pads on/off the ice, helping the skaters get on the ice or filling buckets of water.  There are many other organizational roles where we welcome your participation.
How do I stay in touch with the club?
Where can I purchase speed skating equipment?
There's one main supplier that most of our skaters use,
Special Equipment Co.
  Another good source is
the SkateNow shop
in the west coast. Our coaches and more experienced skaters are always happy to help with your equipment questions.
How to determine my boot size?
Click and download the instructions -> Boot size reference
How do I care for my speed skates after each practice?
Here's a how-to guide:
Always cover the blades with skate guards when the skates are worn and used anywhere other than on the ice. This includes putting the skates on and taking them off, walking in an arena, etc. The purpose of this is to protect the bottoms and edges of the blades from damage or abrasion caused by sand and other materials on the floor of the arena, and also to maintain the sharpness of the blade.
Always dry the blades soon after coming off the ice. Use any absorbent material to do this, for example, a cloth or paper towel. The purpose of this and the next two procedures is to prevent the blade from rusting. Hard steel is particularly prone to rusting so you must be diligent in preventing it.
Never leave a guard on a wet blade or put a wet guard onto a dry blade.
After drying, store the blades either uncovered or in contact with an absorbent material, for example, a pair of soft cloth skate covers, old hockey socks or resting on a towel.
If you do detect rust on the blades, consult a Club coach or other official before attempting any remedy.
Report any loose blades, screws, brackets, broken laces, etc. to a Club official.
If the blades are uncovered during storage and transportation, take care to prevent the blades from banging into each other or into the other boot. Either action will clearly cause damage.
Never put speed skates in an automatic type of skate sharpener. Speed skates are to be sharpened by hand only by Club officials or by you, only if you have received proper instruction. The blades are sharpened by hand on special equipment (i.e. Jig and sharpening stone).
How do I sharpen my speed skates?
Speed skates are sharpened by hand using a sharpening stone and a jig. Ask our coaches and more experienced skaters for further information