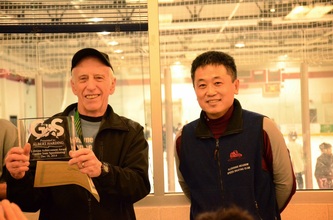 Welcome to Garden State Speedskating!
Garden State Speedskating (GSS) offers year-round speedskating program for beginners to nationally competing athletes in the greater New Jersey, New York metropolitan area, and eastern Pensylvania area. Our skaters are aged from 6 through 70+.
The techniques and disciplines learned in speedskating also serve as excellent enrichment for hockey, figure and inline skaters to drastically improve their skating. Speedskating is for everyone!
Garden State Speedskating ("GSS") was founded in 1978 by parents and friends of speed skating in order to foster the growth of speedskating through providing coaching and instruction to club members of all ages and abilities; and to provide a development hub of future champion skaters in the greater New Jersey, New York metropolitan area and eastern Pennsylvania area. Initially called Metropolitan Speed Skating Association, after few lean years and a change of name to the Garden State Speed Skating Club in 1992, it is today live and well and growing to one of the largest speedskating clubs in the east coast. GSS is a member club of Middle Atlantic Skating Association ("MASA"), whose domain covers CT, NJ and lower NY. MASA is a regional association under US Speedskating ("USS").
GSSC is a 501(c)3 nonprofit organization and your personal and corporate donations may be tax-deductible.